If you are a student who is being bullied or at risk of hurting yourself or someone else...
Speak with your parents, principal, school counsellor and/or a teacher immediately
Mental Health Crisis 780-427-4491

Bullying helpline 1-888-456-2323

Kids help phone 1-800-668-6868

Call the Crisis Support Centre at 780-482-HELP (4357)
Students may drop into Student Services if they require immediate help, or they can make an appointment by emailing their school counsellor. Please remember that no matter what the issue, we are here to listen!
Grade 10:  Niki Balance - nballanc@sturgeon.ab.ca
Grade 11 (A to L):  Niki Balance - nballanc@sturgeon.ab.ca
Grade 11 (M to Z):   Mrs. Anderson - kanderso@sturgeon.ab.ca
Grade 12: Mrs. Anderson - kanderso@sturgeon.ab.ca
K&E: Mrs. Johnson - Adele.Johnson@sturgeon.ab.ca
Please see us if you are having a crisis, dealing with bullying or experiencing stress, depression or distress.
If you are in need of immediate information or help outside of school hours, please call 211 (The Support Network) for the assistance you might need.
Scholarships and Awards
Our students work hard to expand their potential in a number of diverse ways. Equally diverse are the kind of awards available, both to recognize their efforts and to support them in their future aspirations. For more information on SPS Scholarships as well as external Scholarship opportunities visit: Sturgeon Public Schools
Alice Klassen Memorial Scholarship
Coach 'O' Bursary
Dr. Darren Romanowski - Academic Award                                                                                    
Dual Credit Post Secondary Scholarship
Fabrication Award
Frank Robinson Memorial Scholarship
Governor General's Academic Medal
Inter Pipeline Discovery Award
Ken Masse Memorial Scholarship
Maise Metrunec Scholarship
Merit Contractors Construction Award
Phoenix Land Service LTD.
Premier's Citizenship  Award
Registered Apprenticeship Program Scholarships
Ron Kur Academic Scholarship Award
Rotary Award of Merit
Schulich Leader Nominee
Shane Rogers Memorial Award
Sturgeon Local #27 of the Alberta Teachers' association Academic Award
Sturgeon Rural Crime Watch
Sturgeon Public Schools Academic Awards
Sturgeon Public Schools Scholarships
Xerox Academic Scholarship
Zac Drolet Memorial Scholarship
*May be subject to change.
Scholarship Opportunities
Inter Pipeline Discovery Award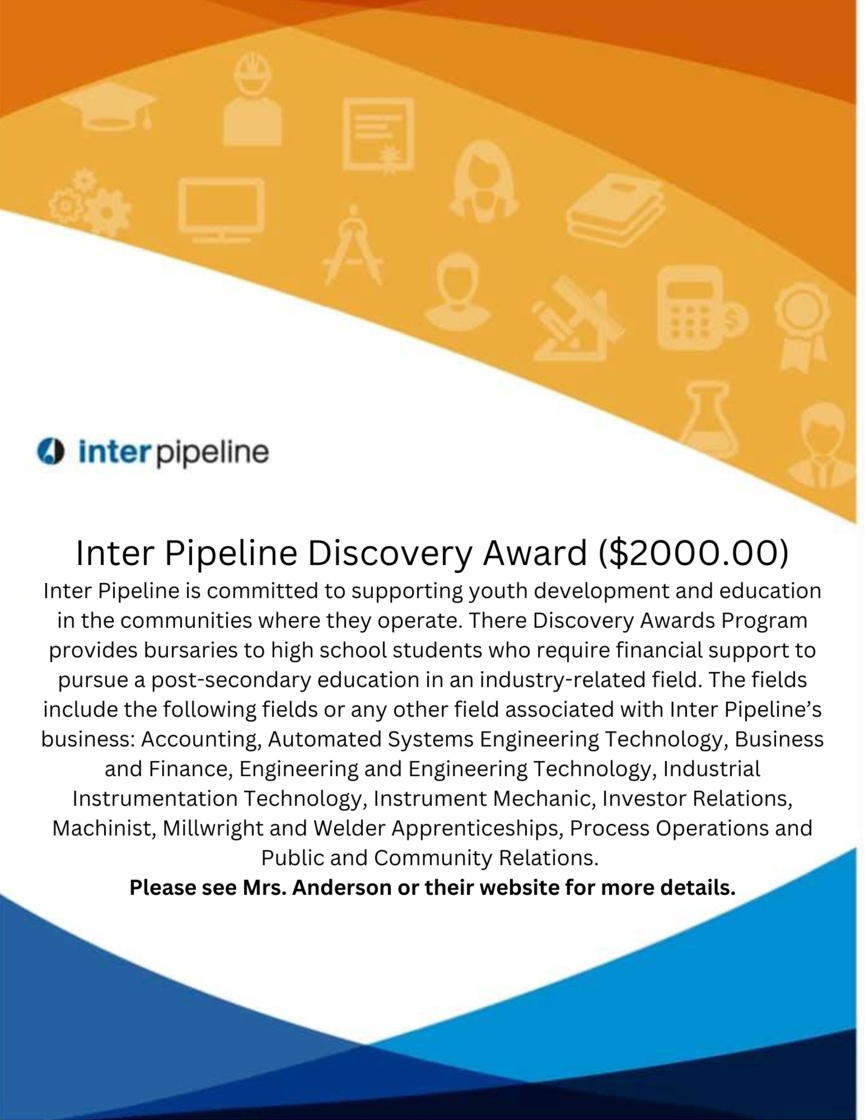 Inter Pipeline Discovery Award ($2000.00): Awarded to a student nominated by the school that is entering a specific program as listed by Inter Pipeline. See Mrs. Anderson for more details.
Bon Accord & District Agricultural Society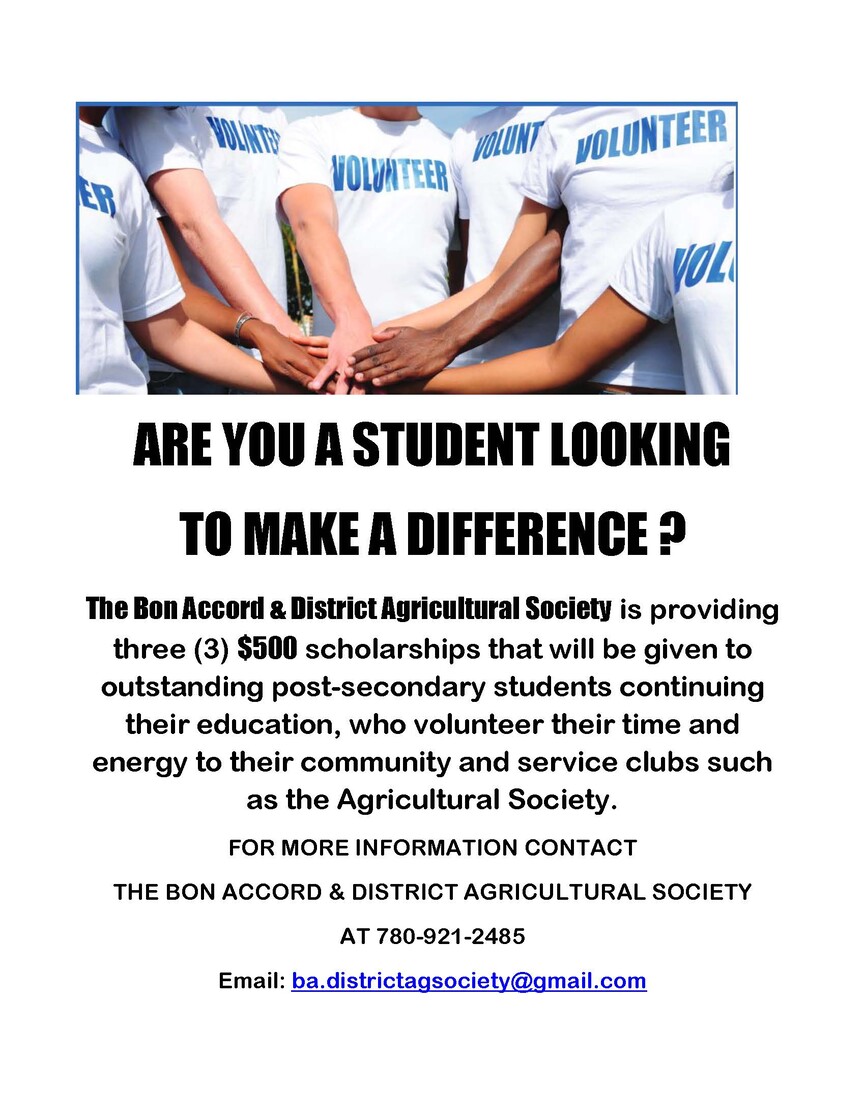 Application Deadline is October 1.
Elmer and Ona Hansen Memorial Scholarship 2023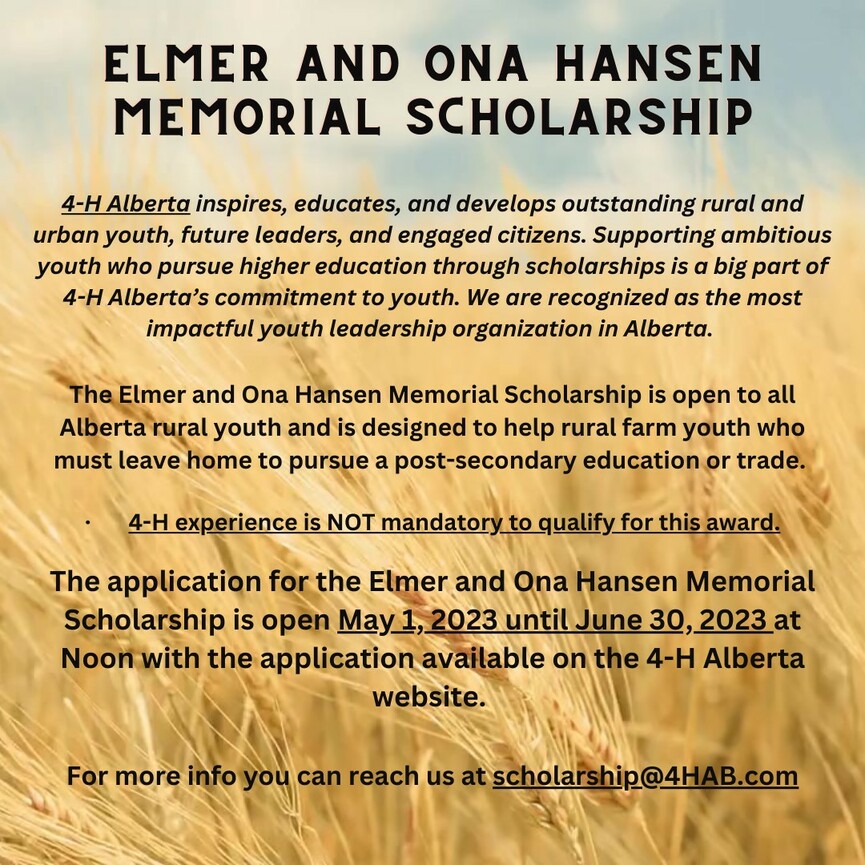 Dale MacMillian Scholarship
MCSnet Scholarship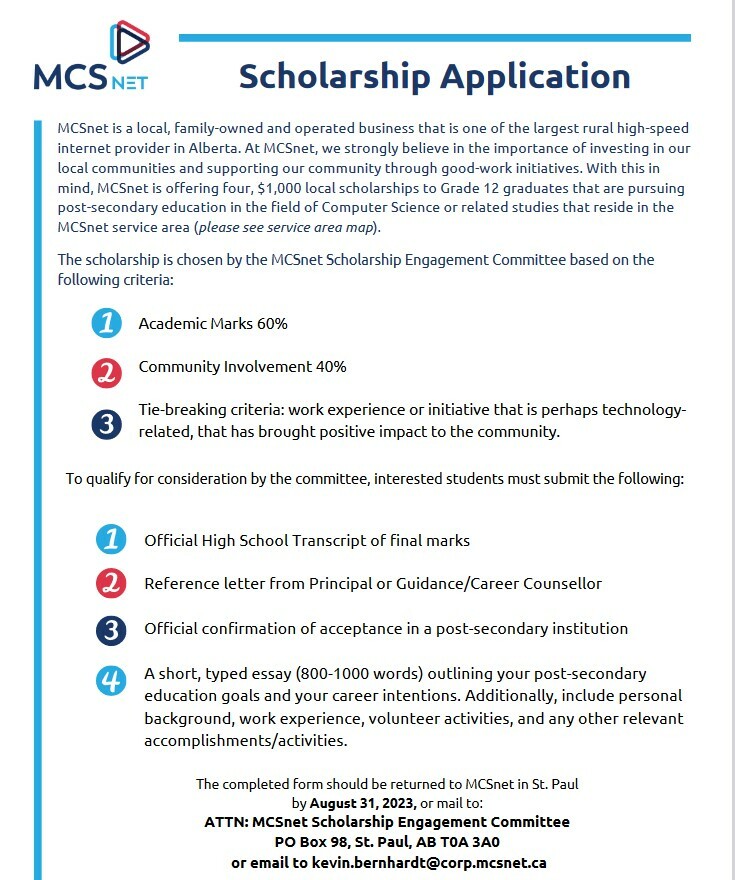 Eligible grade 12 students can apply now for a $1000.00 scholarship from MCSnet.