Back to all posts
Posted on
Dual Credit at Sturgeon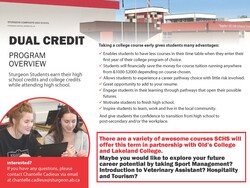 If you were unable to attend the Dual Credit google meet on September 9, Attached is the power point presentation.  The turnaround time is very fast for Olds College applications and attached is the OLDS application, or students can pick up from the office.  The deadline is Tuesday September 14th for applications.  There can be no late applicants.
Dual Credit PowerPoint presentation September 2021
Dual Credit Olds application form
The Lakeland College application is online and the link is provided below, but please print out and sign the signature form and return to the office.  The deadline for Lakeland College dual credit course registration is September 23rd.  If you have any questions, please contact me via email at chantelle.cadieux@sturgeon.ab.ca
Lakeland College Link:  https://soh.ecacs.ca/cms/one.aspx?pageId=29961609
Please register by selecting the "register" button and print out the parent signature form and return to office or send to the options listed, but send me a copy regardless for our files.