Awards & Scholarships
Sturgeon Composite Honors Award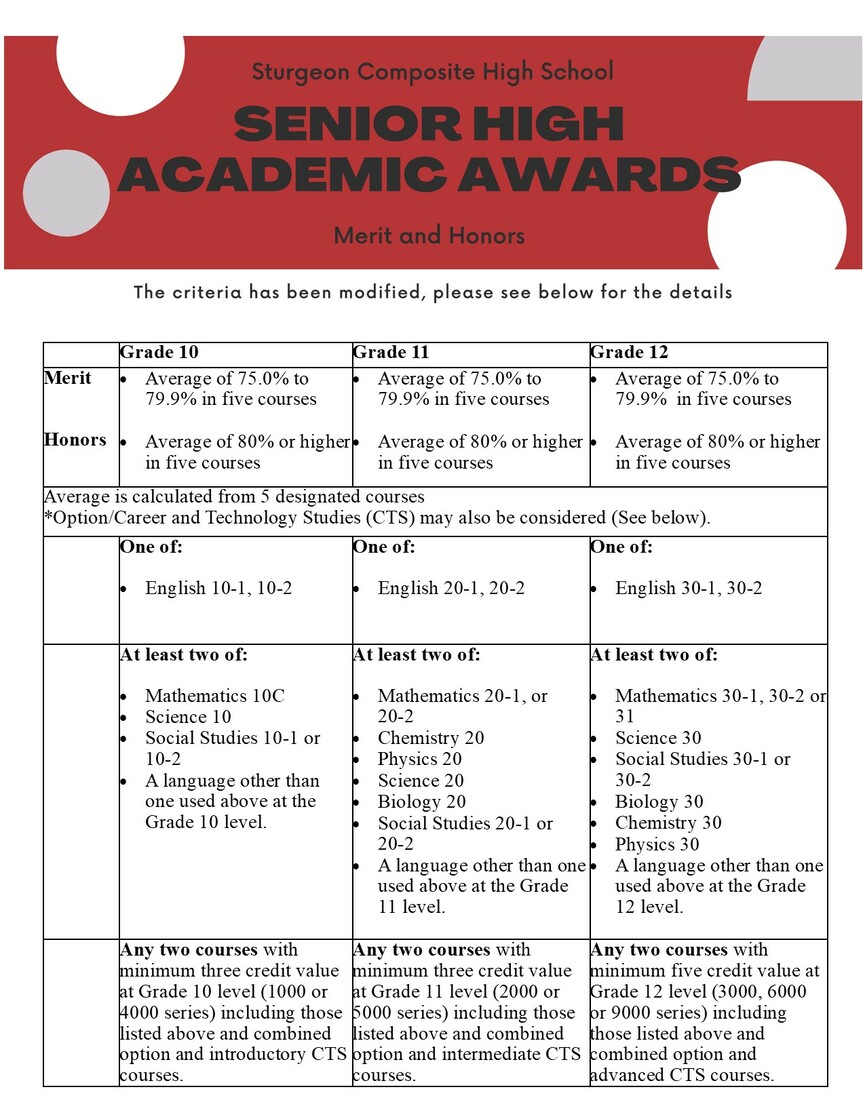 Grades 10, 11 and 12 High School Honors and Merit shall be awarded annually to students who have met the criteria.
Our students work hard to expand their potential in a number of diverse ways. Equally diverse are the kind of awards available, both to recognize their efforts and to support them in their future aspirations. For more information on SPS Scholarships as well as external Scholarship opportunities, visit: Sturgeon Public Schools
Alice Klassen Memorial Scholarship
Coach 'O' Bursary
Dr. Darren Romanowski - Academic Award                                                                                    
Dual Credit Post Secondary Scholarship
Fabrication Award
Frank Robinson Memorial Scholarship
Governor General's Academic Medal
Inter Pipeline Discovery Award
Ken Masse Memorial Scholarship
Maise Metrunec Scholarship
Merit Contractors Construction Award
Phoenix Land Service LTD.
Premier's Citizenship  Award
Registered Apprenticeship Program Scholarships
Ron Kur Academic Scholarship Award
Rotary Award of Merit
Schulich Leader Nominee
Shane Rogers Memorial Award
Sturgeon Local #27 of the Alberta Teachers' association Academic Award
Sturgeon Rural Crime Watch
Sturgeon Public Schools Academic Awards
Sturgeon Public Schools Scholarships
Xerox Academic Scholarship
Zac Drolet Memorial Scholarship
*May be subject to change.
Scholarship Opportunities
Accepting Applications until May 31, 2022
The Northeast Capital Industrial Association (NCIA) is a not-for-profit industry cooperative
representing industry in Strathcona County, Sturgeon County and The City of Fort
Saskatchewan. They promote sustainable industrial growth and high quality of life through
environmental, socio-economic, and public safety programs. For more information, visit
ncia.ab.ca.
Nomination Deadline:  June 30, 2022
Application Deadline:  July 15, 2022
Open to Alberta students who participated in the 2021/2022 Enriched Academy Financial Literacy Program. Students have a chance to receive up to $1,000 to start their personal saving and investing plan. There is also an opportunity for the teacher with the most applications from their students to be awarded $200 for their department or high school!
Applications Deadline:   June 14, 2022
4H Scholarship
The application for the Elmer and Ona Hansen Memorial Scholarship is open May 2, 2022 until June 30, 2022 at Noon with the application available on the 4-H Alberta website. To go directly to the application, please click here.
For more info you can reach us at 403.899.7030 or scholarship@4HAB.com.